Product Description
BLUETTI PV420 420W Foldable Solar Panel for AC200P/AC200MAX/AC300/EP150/EP500/EP500Pro Portable Power Stations
Built with mono-crystalline solar cells, the BLUETTI PV420 420W Foldable Solar Panel can convert up to 23.4% of sunlight into solar energy, charging your solar generators even in bad weather. Unfold the PV420, snap the kickstands, adjust the angle to maximise the amount of sunlight, and you're ready to harness solar energy for your generators. The ETFE coating and IP65 junction box are designed to withstand any scratches and water-splash, perfect for Rv, Caravaning, camping and much more.
Features
Solar charge anywhere - Connect it and leave it. BLUETTI 420W solar panel is set to keep your solar generators juiced as long as there is sunlight available. This solar panel does not include a solar regulator though as it has the standard MC-4 connectors, it can be used to charge other power stations, batteries systems and devices with the approved regulator and output.
Higher Conversion Rate
Monocrystalline Solar Cells With Up to 23.4% Efficiency
Long-lasting ETFE Coating
Durable & Splash-Proof
Foldable & Portable
Durable & Splash-Proof
Compatible With BLUETTI AC180/AC200P/AC200MAX/AC300/AC500/EB150/EP500Pro/EP500
Compatible With Most Solar Generators with MC4 Connectors
12 month Warranty
More Power For Less
With a high-powered PV420 solar panel hooked up, you can juice up your battery with solar energy at a high speed, meeting your power demand while saving your bills in the long run.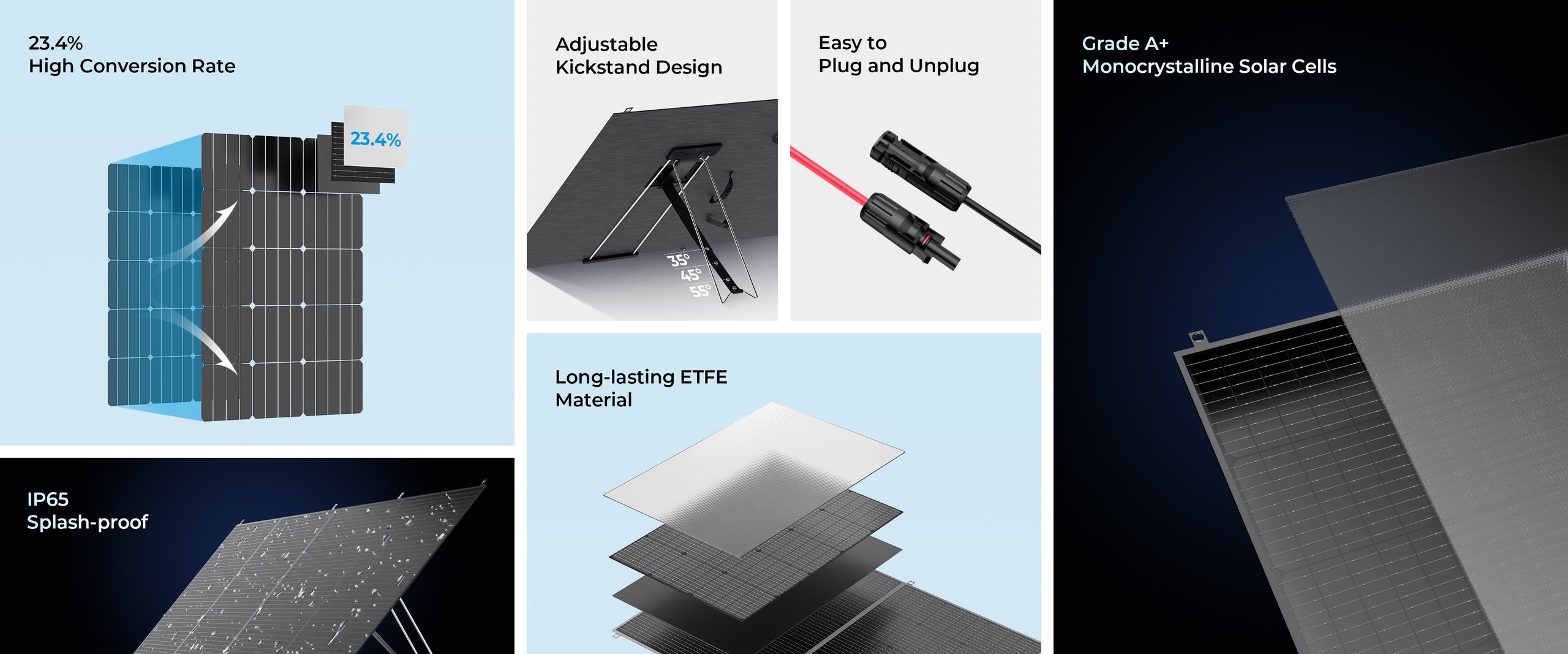 Up-Level Your Solar Lifestyle
As a game-changer for collecting solar energy, BLUETTI PV420 is compact and foldable for easy transportation. No need to rely on the grid whether you go on outdoor adventures or stay at home.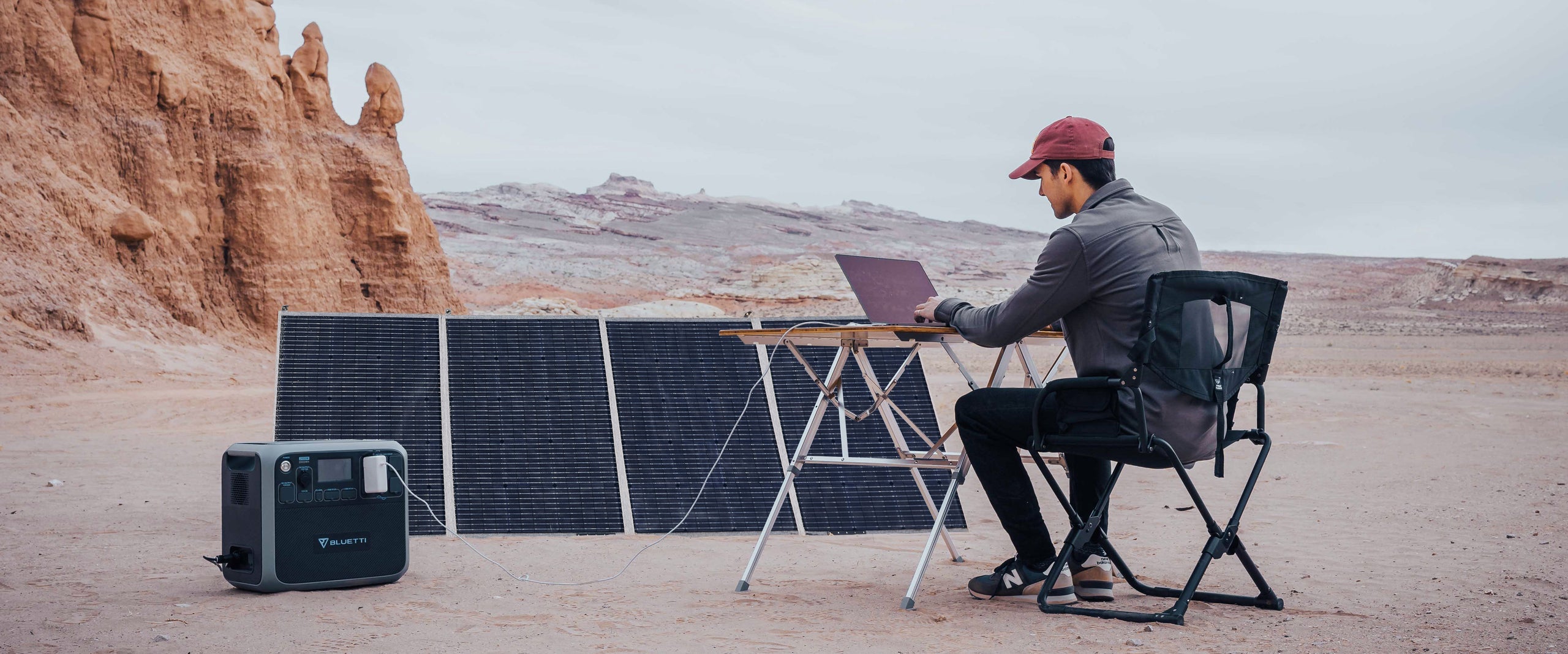 Optimal Solar Intake
Given the 23.4% high conversion rate, PV420 is capable of capturing about 2kWh solar energy every day with 6 hours of prime sunshine (under ideal conditions), enough to run your electronics for hours.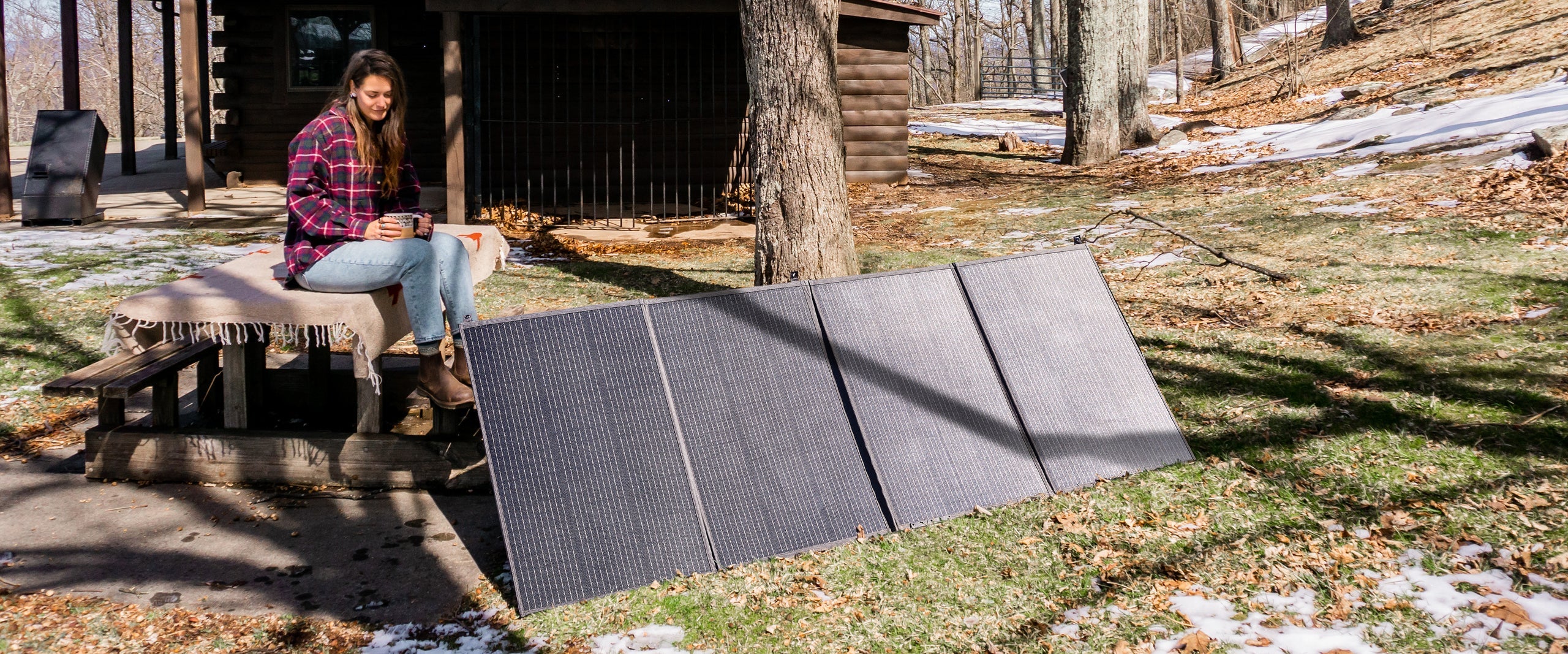 Outstanding Performance
PV420 adopts monocrystalline solar cells and multi-layered ETFE to ensure better light transmittance, higher efficiency, and longer lifespan. The ETFE coating surface has a rating of IP65 to resist water splash, scratch, and dust. Also, it can be easily cleaned with a wet cloth.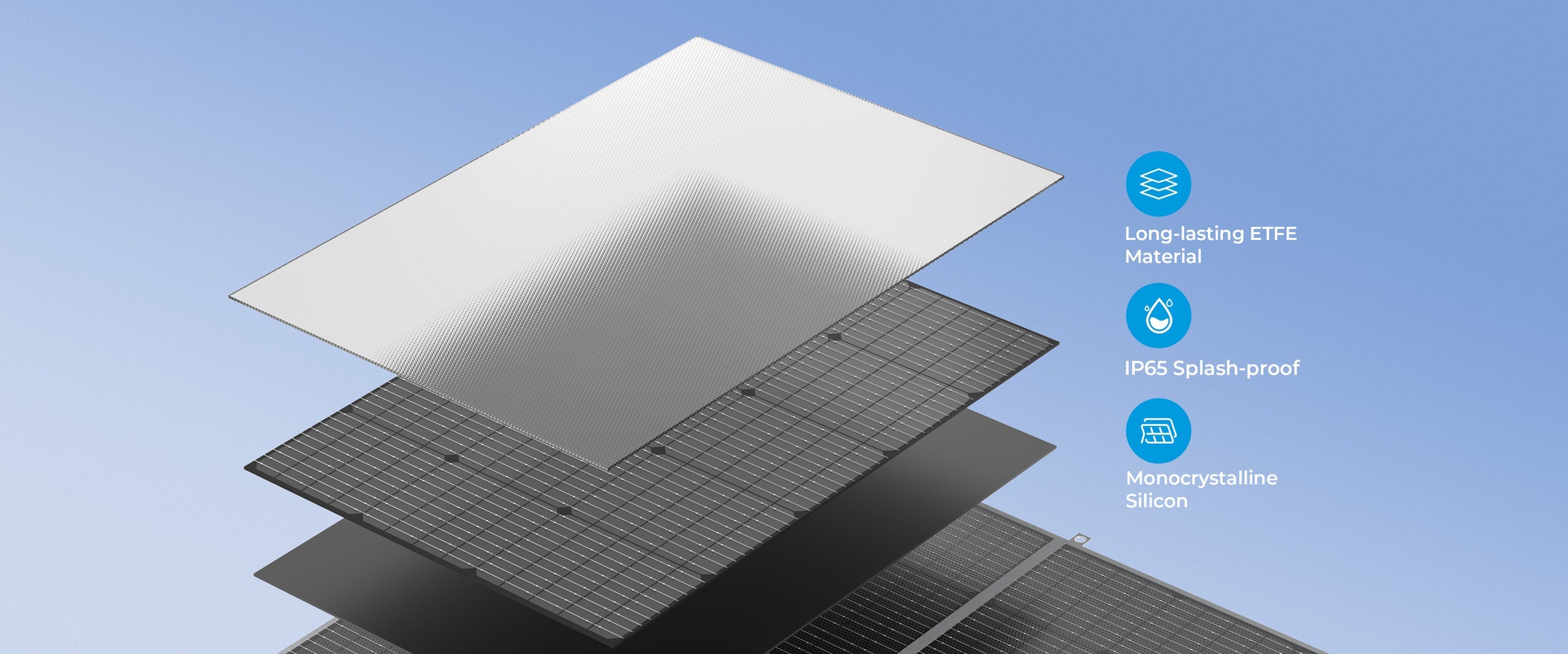 Beef Up Productivity
Simply set up your solar panel and adjust the tilt based on the sunlight intensity or angle to generate the optimal solar power. Your power-hungry devices will never lose power again with a continuous solar supply.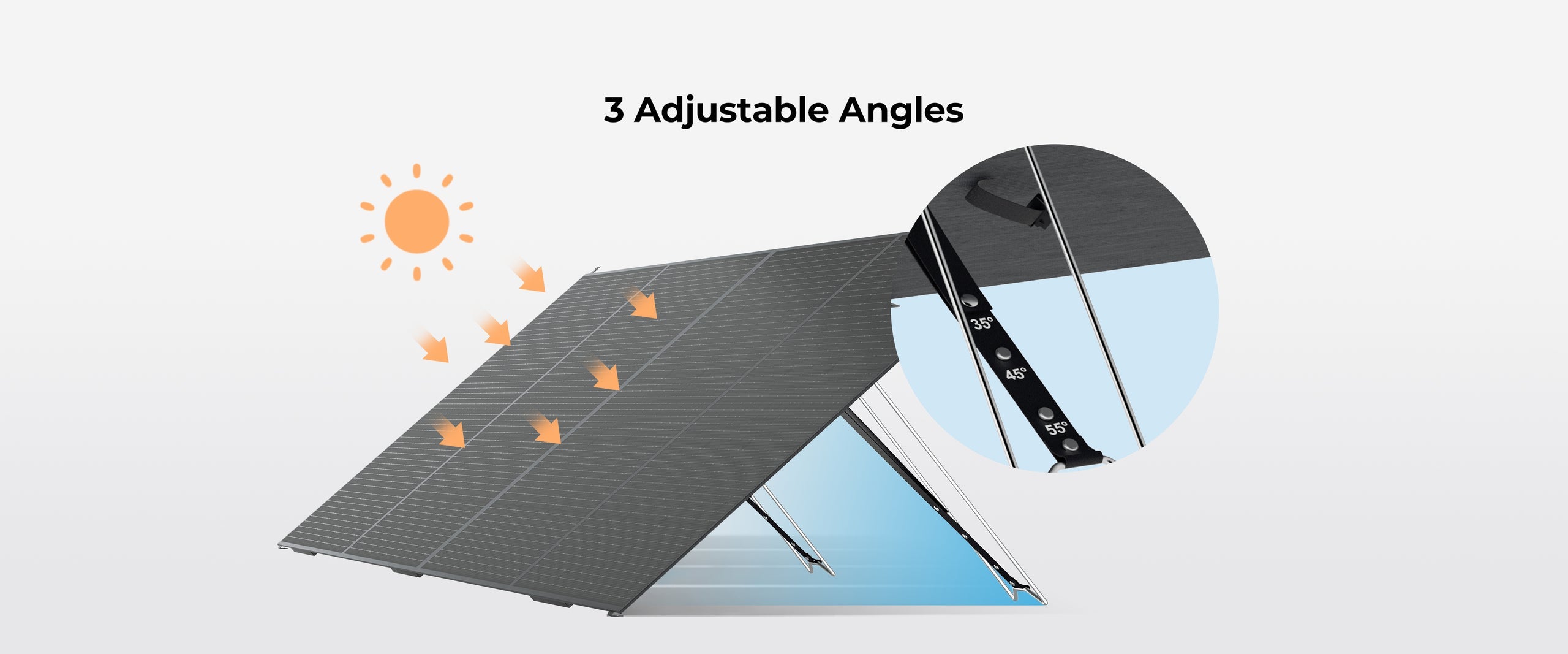 Hassle-free Carrying
The foldable design saves much valuable space in the trunk or storage room. A convenient handle is designed to make it effortless to carry wherever there's the most sunlight.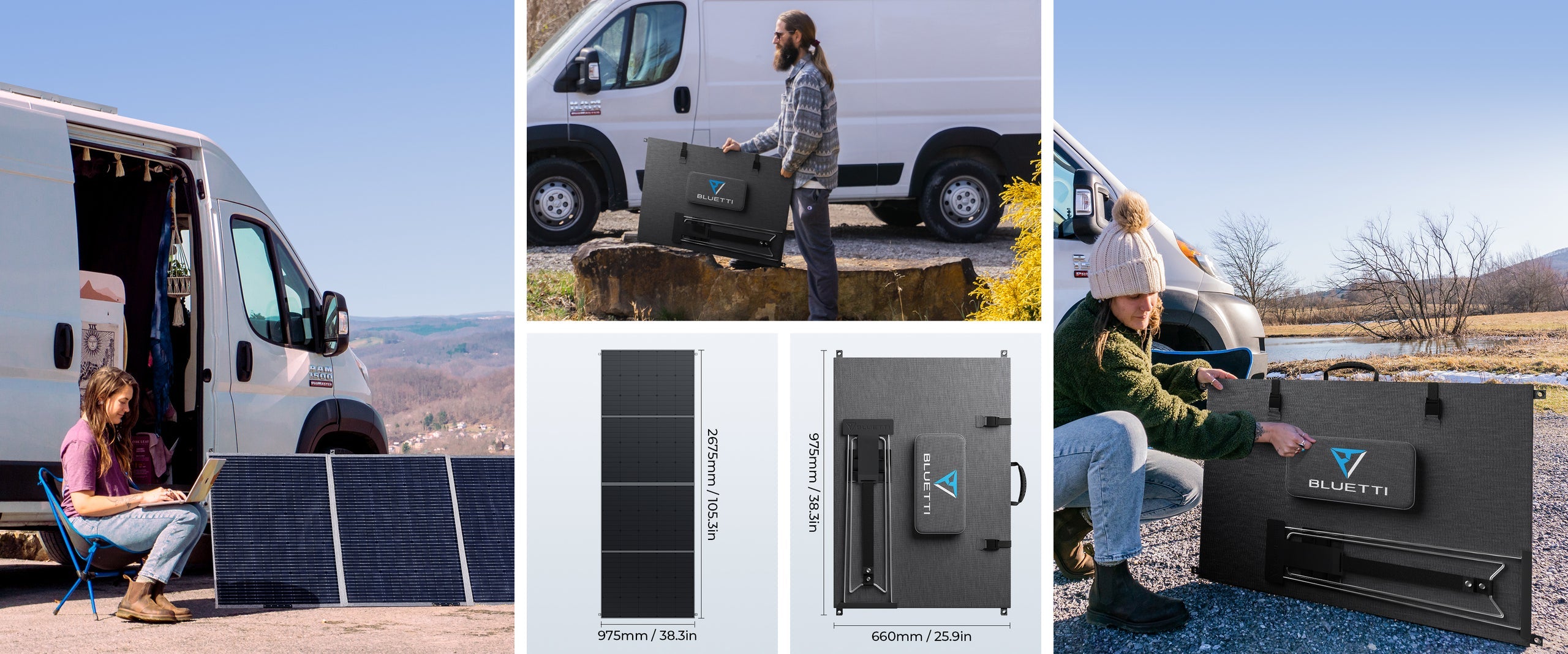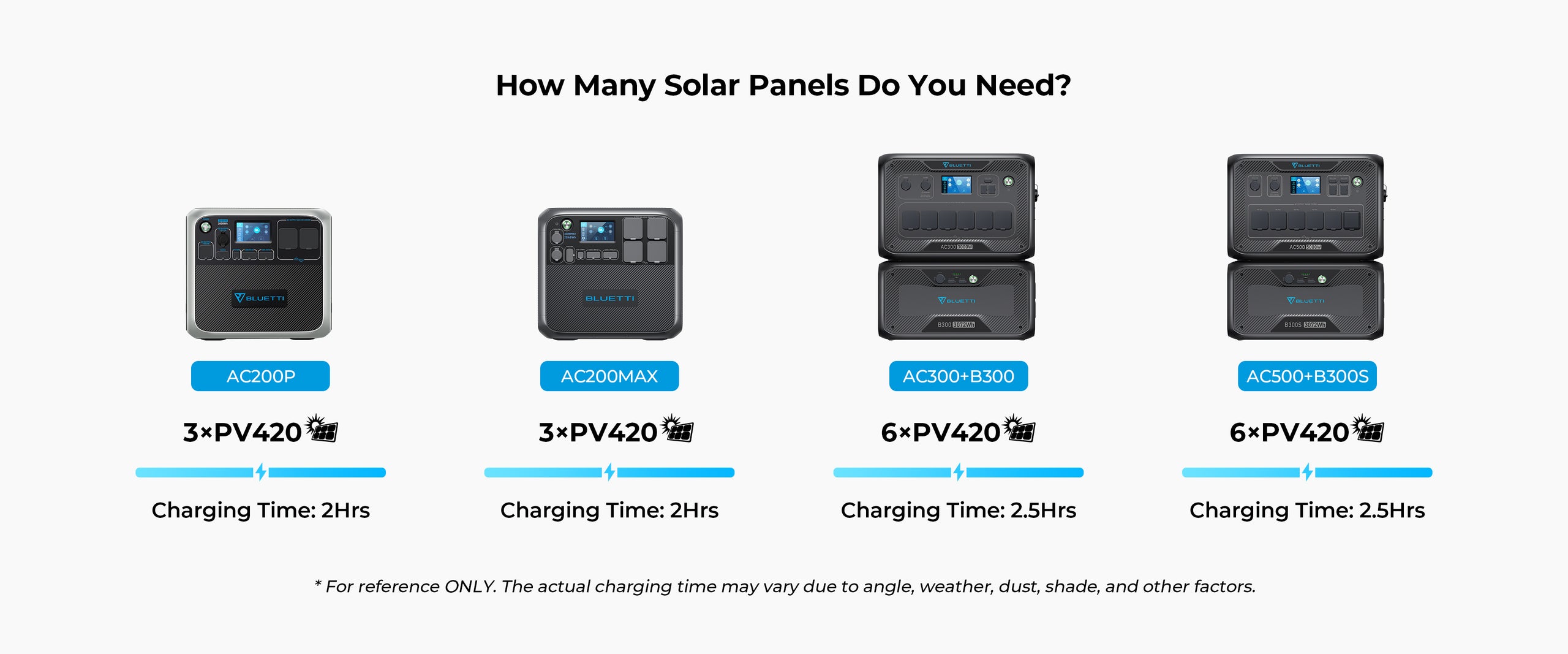 Specifications
Product Info
Model: PV420
Peak Power: 420W
Lamination: ETFE (Ethylene tetrafluoroethylene)
Cell Efficiency: Up to 23.4%
Voltage Open Circuit (Voc): 44.3V
Current Short Circuit (Isc): 12.2A
General
Connector: Standard MC4 Connector
Weight: 14kg (30.8lbs)
Dimension (Unfolded):2675mm x 975mm (105.3 x 38.3 inches)
Dimension (folded): 975mm x 660mm x 45mm (38.3 × 25.9 x 1.7 inches)
Operating Temperature: -10 - +65°C (14-149°F)
Best Working Tmeperature: 25°C (77°F)
Folding Number: 4

Cable Length: 3m

(118 inches)
Warranty: 12 Months
In The Box
1 x BLUETTI PV420 Foldable Solar Panel
1 x User Manual
1x Warranty Card
Manufacturers Info (Click on link and a new web page will open)
Bluetti PV420 420W Solar Panel Manual
FAQS
Question 1: Is BLUETTI PV420 Waterproof?
Answer: Yes, IP65 is rated for junction box, but do not expose the solar panels to rain or snow.
Qustion 2: Can I install it on the roof?
Answer: No
Question 3: What are the compatible Bluetti Models?
Answer:
EB150 (1500Wh/1000W power station)
AC200P (2000Wh/2000W Power Station)
AC200Max (2048Wh/2200W Power Station)
AC300 (3072-12288Wh/3000W Power Station)
B300(3072Wh/500W Extra Battery Pack)
☼To verify the compatibility with our future new product, please read the menu that is included with the product, or contact us directly.
☼To verify the compatibility with devices that are not sold by our store, please contact us or the related seller.
Question 4: Can I use BLUETTI Solar Panel to charge the third-party power station?
Answer: Yes, as long as they
have MC4 connectors;

support the output specifications of BLUETTI solar panels.
Question 5: How do I choose solar panels for my solar generator?
Answer:
Review the PV input requirements of the solar generator.

Review the output specifications of solar panels.

Calculate the total voltage, current, and wattage of solar panels.

Consider the solar input connectors.
Question 6: Can I use different size solar panels?
Answer: No. Your solar panels should be the same type and rating from one brand. For example, two PV350 to charge BLUETTI AC200P is acceptable, and one PV350 + one SP350 is unacceptable.
Question 7: Does the panel have any USB ports you can directly plug into?
Answer: No. BLUETTI PV420 only has MC4 connectors.
Question 9: Why can't my PV420 provide420W of output power?
Answer: Rated 420W is the optimal test result at specific temperature and sunlight. Besides, solar panel production is also affected by panel orientation, dirt and debris, shading from buildings or trees, and other obstructions.
Question 10: How do I maximize the efficiency of solar panels?
Answer: These steps will help you get the most out of your solar panels:
Set up your panels correctly: The orientation as well as the angle it tilts at should be right.
Avoid shadow areas: Any amount of shadow will affect solar panel production.
Keep your panels clean: Dirt or debris reduces the panel's efficiency.
Don't get panels too hot: Good air circulation or a cool atmosphere around panels will help.
Product Videos
Custom Field
Product Reviews